Welcome to the WHy Women Kill WIki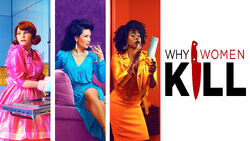 Why Women Kill is a Paramount+ Original. The dark dramedy explores the lives of three women living in three different decades: a housewife in the '60s, a socialite in the '80s and a lawyer in 2018, each dealing with infidelity in their marriages. It examines how the roles of women have changed, but how their reaction to betrayal . . . has not.
About Us
We are a community database on Why Women KIll created by fans, for fans. We are dedicated to building a comprehensive and informative resource about all things related to the Paramount+ Original.
We also have a place for getting to know each other and to talk about
Why Women Kill
in our
Discussions
. Whether you are here to
start editing
or to chat with fellow users, you are welcome to
sign up for an account
!
Community content is available under
CC-BY-SA
unless otherwise noted.